Community Profile

Free Account
Created on 2017-01-15 15:05:21 (#2753263), last updated 2017-01-15 (35 weeks ago)
6,174 comments received
960 Journal Entries, 222 Tags, 0 Memories, 2 Icons

About
| | |
| --- | --- |
| Name: | Queer Mail |
| | |
| | |
| Membership: | Open |
| Posting Access: | All Members |
| | |

Mini Bio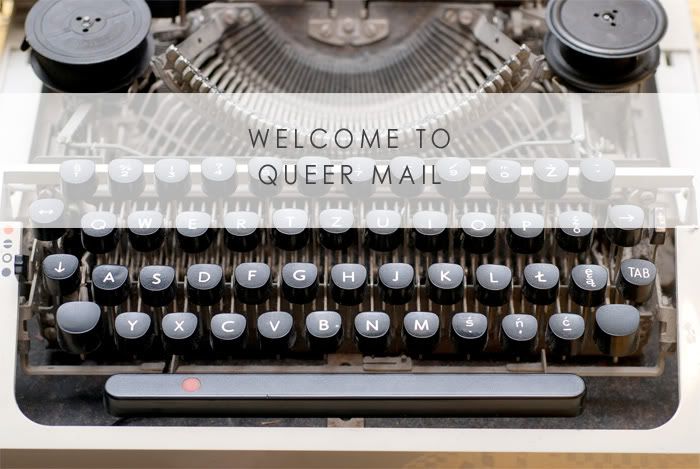 Welcome to Queer Mail!
This community is for queer-identified people or SOFFA (significant others, friends, family and allies) who want penpals, long-term or short-term, or who wish to generally swap mail, packages, mix-cds, emails or other items.
NB: By 'queer' we mean: "Re-claimed umbrella term used to describe the Lesbian, Gay, Bisexual, Transgender/Transsexual and general non-heterosexual communities. Queer is the opposite of Straight." (taken from Urban Dictionary). Basically, we consider "queer" to be anybody that feels that they do not fit into heterosexual or binary boxes. This includes asexuality and intersex.
You do NOT have to reveal or share your gender/sexuality to join this community if you do not feel comfortable doing so.
YOUR FIRST POST:

If you have just joined and are making your first post to the group then please 'introduce yourself' by filling out this questionnaire (you may write as little or much as you like, and can leave out any questions that you do not wish to answer):
Name:

Age:

Location:

How do you identify?: (sexuality/gender)

Interests/hobbies:

Favourite books:

Favourite films:

Favourite music:

What would you like to send/receive?:

Who would you like to send and receive mail from?:

What countries would you like to receive mail from and send to?:

Anything that you would particularly NOT like to receive?: (eg. "food/candy with nuts")

What would be in your dream letter or package?:

Anything else you'd like to add?:

Picture (optional):
TRADES:

If you would specifically like to organise a trade such as a mix-cd trade or a surprise package trade, please start a new post and ask people to sign up for the trade in the comments. You might like to organise a mass trade/swap in which many people sign up and then you pair them all up randomly, they contact eachother individually and exchange mail. Or you may like to organise a single personal trade in which you offer a theme/item that you'd like to swap and wait for a direct response.
MISSING MAIL:

If you agree to swap mail with someone and never receive anything in return then be patient! Sometimes people get held up. Please contact the user directly, and if you don't hear anything back and would like to report them then please contact group admin: hello_alphie. Persistent flakers will be removed from the group.



NO homophobic/transphobic comments or posts will be accepted. Any such behaviour will be immediately deleted and users removed from group. This also goes for anything racist or generally unpleasant.


You may swap or post items of a sexual or adult nature but ONLY if agreed in advance with the recipient/other party, and followed through as agreed (for example, blank packaging). Do not send anything sexual to anybody underage!


No spamming please.


If you agree to trade or exchange mail with somebody then please keep to your promise! Persistent flakers will be removed from the group.


Please be careful with your personal details such as postal address. Only reveal these details in a personal message to somebody who you trust, and do NOT share your own or others details publicly or with anyone else.


I will think of more rules as and when they arise!



Tags are entirely optional but may increase your chances of being found and contacted by your perfect penpal! We have a lot of tags set up but please use the most common ones first. Please message hello_alphie if we have missed out any tags that you would find useful.
LOCATION TAGS: If you are looking to write to somebody in the same country, area or state as you then you could tag your continent, country or state. You can also tag "any location" if you have no specifications regarding location.

Example: "Europe", "USA", TX" (= Texas)
GENDER TAGS: You can tag the gender of those that you wish to write to, as "female" or "male" or "any gender". You can also tag your own gender (includes "genderqueer, FTM, MTF, intersex" and more).

Example: "male", "female","MTF", "intersex", "cisgender"...
SEXUALITY/IDENTITY TAGS: You can tag your sexuality or the sexuality of those that you may specifically be looking to write to. You can also tag "any sexuality" if you have no specification of whom you would like to write to.

Example: "lesbian", "femme", "bear"...
LANGUAGE TAGS: You can tag languages that you can read/write or would like to penpal in:

Example: "spanish", "french", "german"...
SEND/RECEIVE TAGS: You can tag what sort of items you would like to receive. If you would only like to send IMs or emails then that's fine, but you may want to swap recipes, candy, packages... lots of things! You can tag what you would like to send/receive:

Example: "mixtape", "IM", "email", "recipe", "letters", "postcards"...
AGE TAGS: You can tag your age, AND the age of those you are looking to write to. You can tag more than one age range if you are open to a wider age spectrum. These tags are as follows:

"16 - 18", "19 - 25", "26 - 35", "36 - 45", "46+", "all ages"
We realise the tagging system isn't perfect but hopefully it will help you find penpals a little easier :)

Connect
asexual
,
asexuality
,
bdsm
,
bears
,
butch
,
craft
,
dyke
,
feminist
,
femme
,
friends
,
ftm
,
gay
,
homosexual
,
intersex
,
intersexuality
,
lesbian
,
letters
,
love letters
,
mail
,
mix cds
,
mixtape
,
mixtapes
,
mtf
,
packages
,
parcels
,
penpal
,
penpals
,
postcards
,
queer
,
radical
,
round robins
, smail mail,
soffa
,
swap
,
transgender
,
transguys
,
transsexual
,
transwomen
,
writer
Administrators

Members (4):

Subscribers (2):

Linking
To link to this user, copy this code:
On Dreamwidth:
Elsewhere: